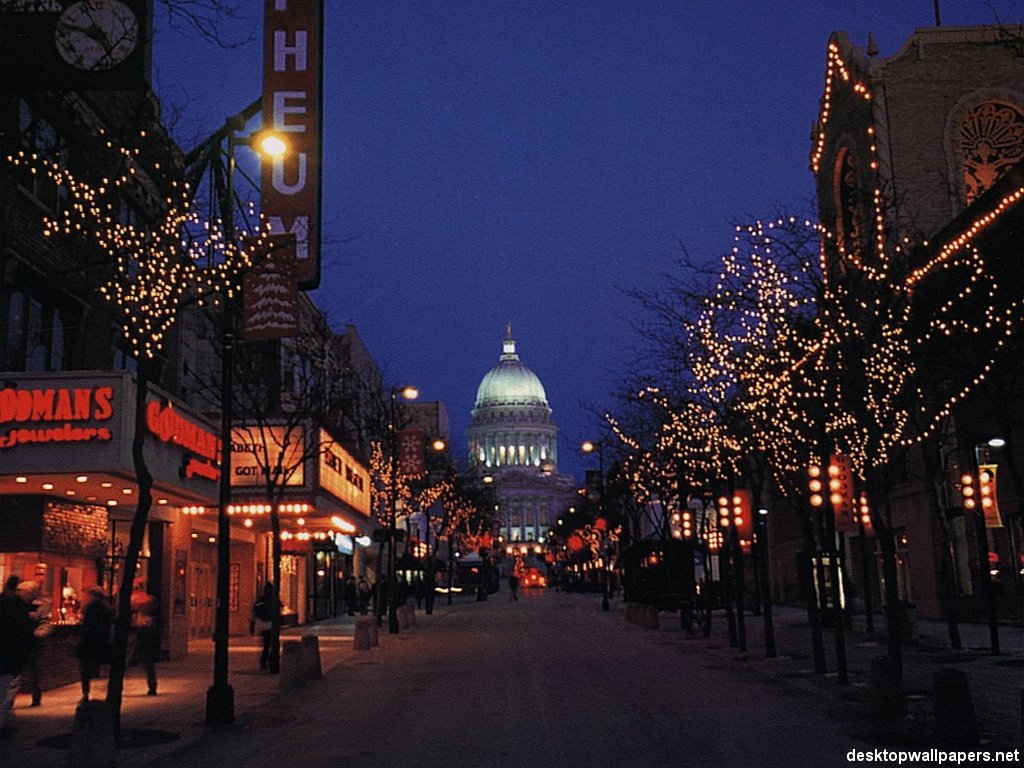 by Samy Moskol
As the temperature drops a bit more each day, a handful of local restaurants are putting a creative spin on the Wisconsin winter's lack of plenty, with dishes and drinks that will surely warm your insides.
Winter eating…
Harvest
Since Capitol Square's Harvest Restaurant is "farm-to-table", its menu is based on what produce is in season, and nearby. So it constantly changes throughout the year. Head Chef Nate Hamilton said planning the menus during the winter can be challenging, and they often create menu items the day they start serving them, after everyone in the kitchen gets a chance to give their two cents, of course. But if you stop in, you might get the chance to try some of the meals Hamilton has been thinking up: a black truffle tagliatelle pasta- with a poached egg, black trumpet mushrooms and sarvecchio cheese – a braised Fox Valley Berkshire pork "corn dog"-with curried onion ketchup, sweet potato mustard, bacon aioli and cippolini onion relish – or a roasted baby beet salad, with Labneh yogurt, carmelized herbs and black pepper shortbread. He's also considering whipping together a smoked apple tartlet or carrot cake if sweets are your fancy. Although you might not know your choices before you get there, you will likely be satisfied- a risk worth taking.
(21 N. Pinckney St, first course, small plates and entrees $5-$42)
Alchemy
Alchemy, an Atwood neighborhood hidden gem, has a knack for good, hearty food. In the summer months they source around 90 percent of their produce from Wisconsin area farms, such as Crossroads and Driftless Organics. Although they have to supplement their winter menus a bit more with non-local food, they still get around 50 to 60 percent of their produce from nearby. Chef Dan Zaremba says it is time to phase out the tomato and make room for squash, potatoes and other root vegetables as they adjust their seasonal salads and sides accordingly. But there are some completely new items as well. On their fall menu, which they've now been using for a month is the Bella, a portabella mushroom sandwich, the Matilda, a grilled butternut squash sandwich, and the Angus Hanger Steak entrée among other things. Zaremba recommends the vegetable coconut curry, with roasted butternut squash, carrots, and sweet potatoes over basmati rice with cilantro yogurt- 100% local and a new favorite. Come January or February Alchemy will change its menu once again, so get 'em while you can.
(1980 Atwood Avenue, entrees, sandwiches, appetizers and salads, $4-$13.50)
And drinking…
Cooper's Tavern
Cooper's Tavern on Capitol Square is known for its rustic dishes and enormous craft beer list, with flavors inspired from all over the world. And if you're looking for a sip of something spicy or sweet, Cooper's is no surprise, decent at that too. Their seven "Winter Warmers" this year offered until March, is dessert alcohol at its best. Proprietor Peter McElvanna, recommends the Tom and Jerry, a concoction with a taste similar of eggnog, made of light rum, brandy, nutmeg and whipped crème. It's unique to Cooper's, and he calls it a "tribute to Old Wisconsin" with the recipe originating from a Sun Prairie Norwegian family. Also offered are the Hot Toddy and Irish Coffee. For something more literally dessert, try the Cinnamon Sticks, Peppermint Patty, Tiramisu, or S'more (When else can you justify drinking graham cracker liquor?). Each drink is $7 and perfect for an after-meal treat, or what I like to call a crazy Friday night.
(20 W Mifflin- $7 for winter warmers, $3.95 – 16.95 dinner menu) 
Photo Credit: desktopwallpapers.net